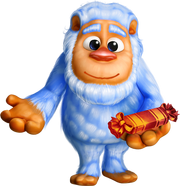 To unlock the Hermit you will need to build his camp in the Hermit Lowland. Once completed you will be able to visit the Hermit Camp to exchange food with him for diamonds. The Hermit is a very useful character in Dreamfields, allowing you to collect precious diamonds every 8 hours in exchange for some food or some diamond cutting tools which you can make in his Hermitage .
Ad blocker interference detected!
Wikia is a free-to-use site that makes money from advertising. We have a modified experience for viewers using ad blockers

Wikia is not accessible if you've made further modifications. Remove the custom ad blocker rule(s) and the page will load as expected.