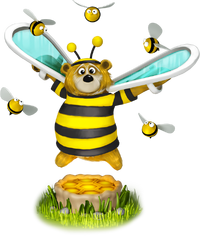 The bears are your helpers in the Dreamfields , you can call them by placing jam in your dream, the bears will arrive, eat the jam and you can select the way in which they can help you. You can call them by clicking on one of their . The huts are the central hub for bears in Dreamfields. There are 3 different kinds of hut: Woodcutter's Hut (For collecting wood),Mason's Hut (For collecting stone) and the Forester's Hut (For collecting flowers and mushrooms). If you build all 3, you can really make good use of the bears, having up to 3 at once working on collecting resources for each hut. Dreamfields would be a very different place if it weren't for the friendly bears.
Ad blocker interference detected!
Wikia is a free-to-use site that makes money from advertising. We have a modified experience for viewers using ad blockers

Wikia is not accessible if you've made further modifications. Remove the custom ad blocker rule(s) and the page will load as expected.