Chapter 2 - The Fairytale
Back to Chapter 1 - The Prologue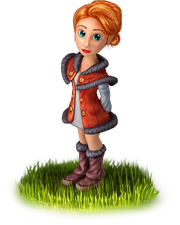 Everything was full of magic! It could be felt in the curious forms of trees, in the rustle of tall grass... Even the air felt like it was filled with a million fairies. As she ventured further and further into the woods, the girl finally arrived at the cozy edge of the forest. Suddenly, she realised something... She had been there before: In the world of magic and fairy tales!
The forest creatures immediately noticed the presence of the girl. The first one to approach her was a magical deer; on his chest he proudly wore a big Lunar Crystal of extraordinary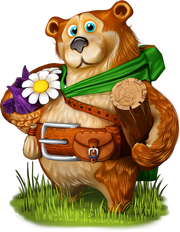 beauty, which helped him light his way at night. It was getting very bright, the sun shone warmly upon them, kissing the girl's skin as she took in the beautiful bird-song... It seemed like the most welcoming place in the whole world!
      A little later she met with her old helpers - jolly good Bears, who love not only to feast on jam and bask in the sun, but are also great assistants around the household. Then came all her other old faithful friends: the Forest Spirit, the Lantern Spirit, and the little cub Bear.
On to Chapter 3: Return